Kitelessons with radio helmet
Book a kitesurfing lesson with our kitesurf school and you can expect the following:
Kite lessons with radio helmets for intensive coaching
Certified and constantly trained instructors
Perfect teaching locations in Zeeland at the Vrouwenpolder or Neeltje Jans beach
Kitesurfing certificate with VDWS level system
Up to date equipment, like North kites and O'Neill wetsuits
Lessons:
Kitesurf Lessons
You can take kitesurf lessons at any level. Maybe you want to try it out, you want to refresh or you want to learn a certain skill. We'll book you in on the right level for you.
Beginners classes
We explain the first basics and let you do a lot yourself, building up step by step. This allows you to experience in a pleasant way how to progress quickly.
Follow-up lessons
We adapt the follow-up lessons to your level. If necessary, we repeat what still needs attention and build on the foundation you have.
Advanced lessons
Do you want to jump better and higher or learn that one trick? Let us know what your learning goals are and we will guide you to it.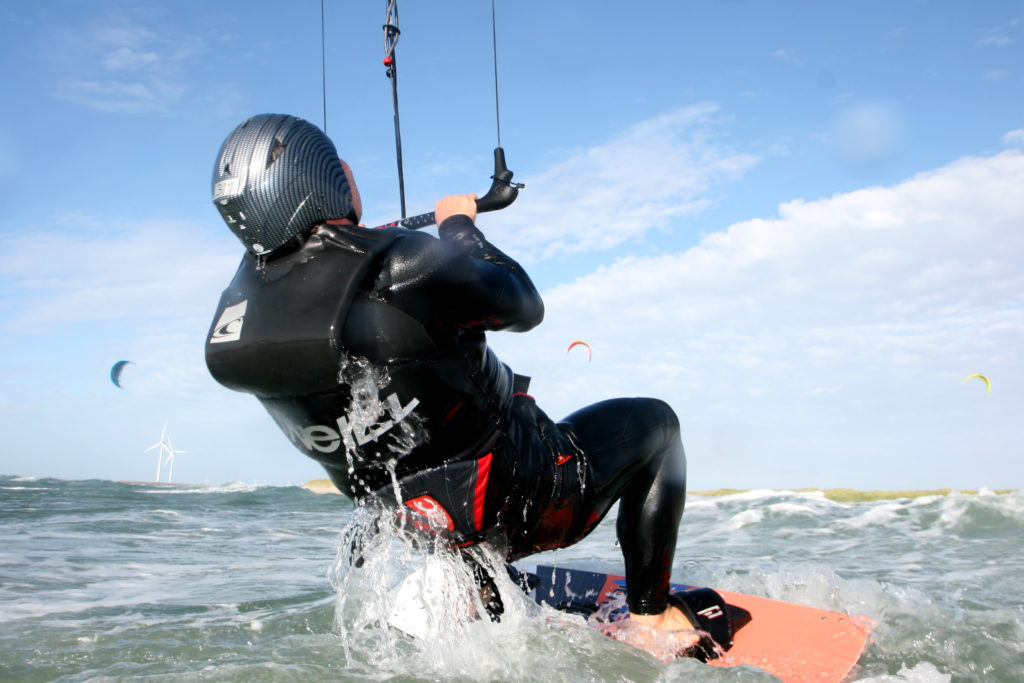 ---
2,5 hours, including equipment
Per person € 134,-
Example program beginners
We adapt the kite lessons to the level of the participants and the circumstances. The main thing is that we want to teach you how to kitesurf in a safe and efficient way, from your very first introduction to your first meters on the water. Your progress will be tracked on your internationally recognized VDWS license. Once you reach level 3 and pass your theory exam, you can practice on your own under supervision. A sample lesson program looks like this:
Level 1: Kite Practice
You will learn to master the kite:
How do you rigg up a kite
Where and when can you safely practice kitesurfing
Which safety systems does a kite have?
How do you start, land and steer a kite and regulate its power?
You will do a lot by yourself:
Many kite exercises on land and in the water
Restart the kite from the water
Kite flying with a harness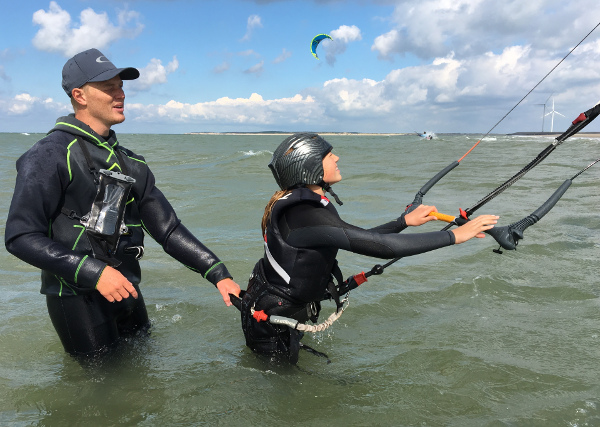 level 2: Perfect your kite handling
You continue with the excercises to control the kite. We mostly do this in the water, safe and fun! You will:
Rigg up your kite
Do several excercises to drag your self through the water
Practice with kite and board in the water
Try your first waterstarts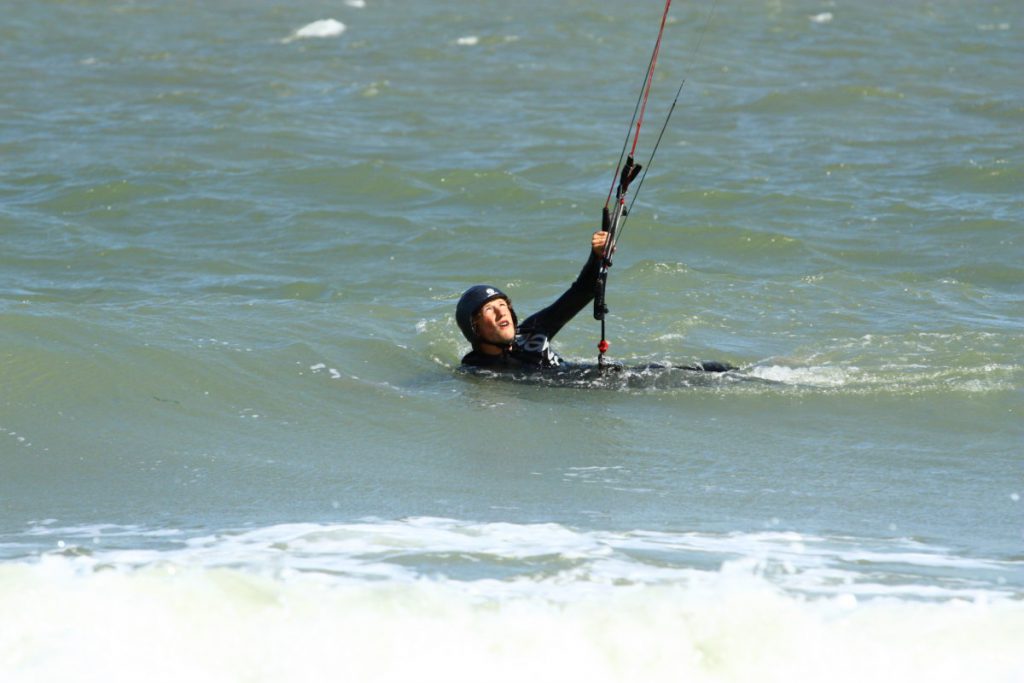 Level 3: Waterstart
For level 3 you will:
Repeat what you learned before
Practice a lot with the most difficult part, the "waterstart"
Sail your first meters (50m)
Finish theory up to level 3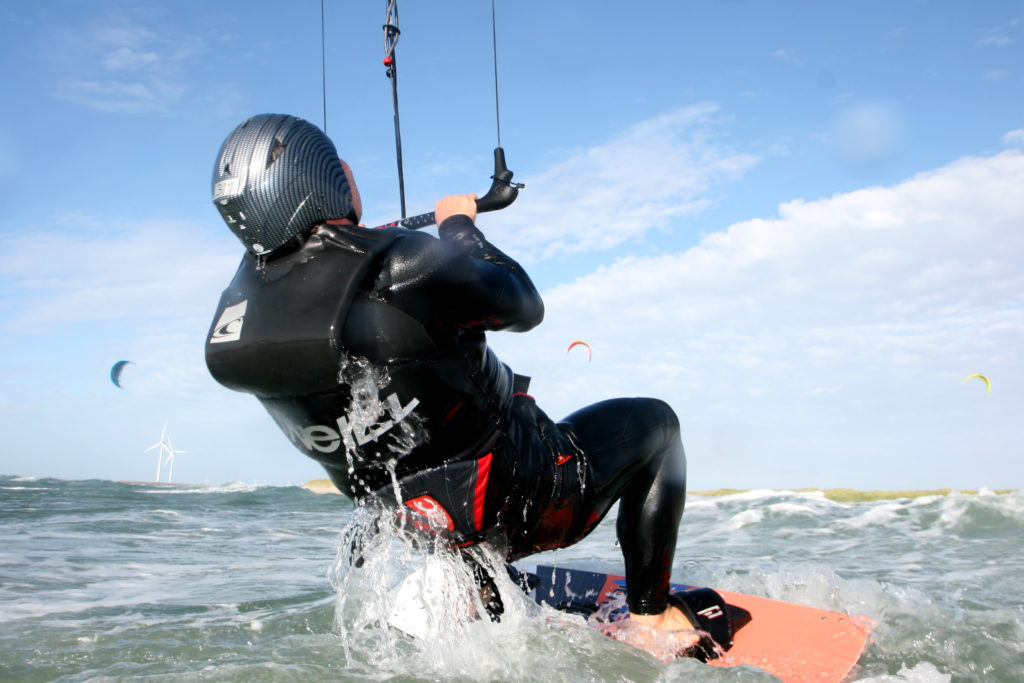 Example advanced lessons
If you already know the basics, but you are not on the level to buy your own set and practice by yourself, we can help you with advanced lessons. We continue practicing a lot and we'll also point out the choice of equipment and advice on what to buy. The program will be adapted to your level and our goal is for you to become an independent kitesurfer.
Did you begin with the waterstart or did you sail your first meters? Then this course is the choice for you.
The Basics under Control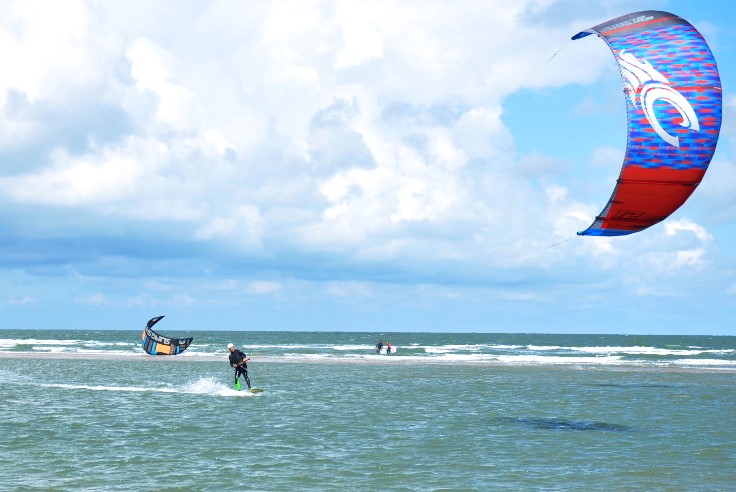 We focus on:
Controlled waterstarts in both directions
Control your speed
50 meters or more in a direction
Keeping Height and making Turns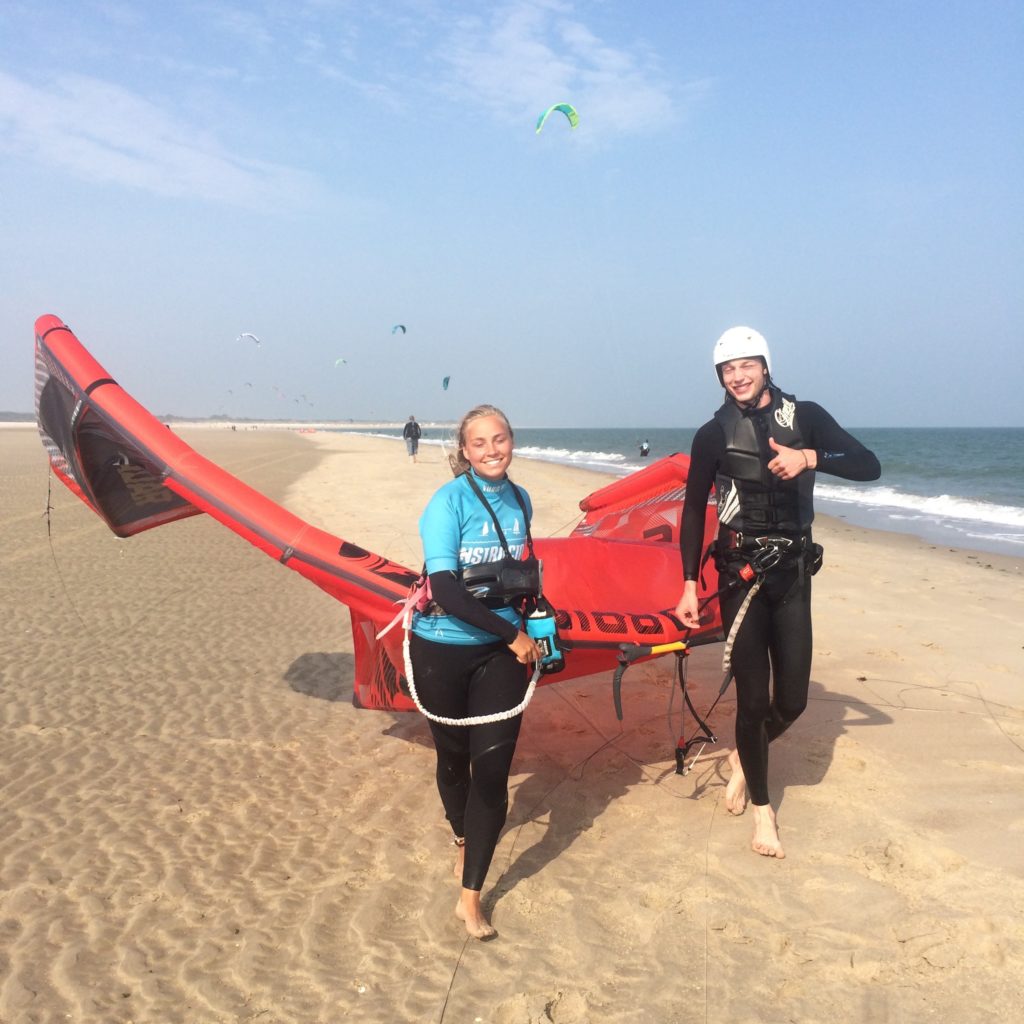 If you can start and sail both directions, we'll continue with
Keeping height so you don't have to walk back anymore
We'll begin making turns (transitions)
We can give an equipment lesson if there's no wind.
All Directions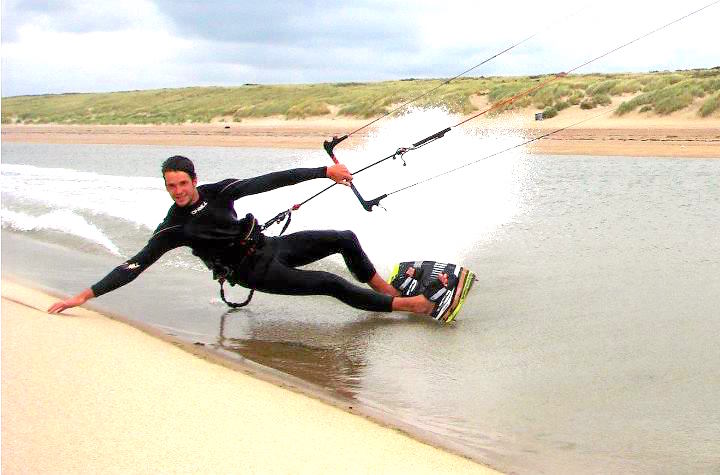 Do you want level 5 on your VDWS licence? Then you'll be able to go out independently (without supervision) so you can rent equipment and know what to look for when buying equipment. We will:
Practice what we learned before
Not just keeping height, but also gaining height
Sail in more directions
---
You can't find the info about our kiteschool you're looking for? Then get in touch with us or have a look at the faqs.
---
Rental
Kiteset
2.5 hours
€ 62,-
(VDWS Level 4 and insurance* required)
VDWS Insurance
Safety Tool
Week Sportscard
Do you want to have an active week on the water and try out different watersports? Then the Week Sportcard is for you!
With this card you can do 2 courses, each in a different sport. Furthermore, you can rent equipment, this is included in the card.
For example, you can choose a combination of Windsurfing and Kitesurfing, Windsurfing and Catamaran or Kitesurfing and Catamaran.
Price: €505 pp (see conditions)