Learn to windsurf in just one hour…
…Thanks to a sophisticated lesson system and private lessons
Max 2 persons per instructor, so we can give you full attention and adapt the lessons to your level
The instructor sails with you on his own board, so he can stay close and give examples
Excellent teaching conditions at Veerse Meer
Suitable equipment for any level
Certified instructors
International VDWS teaching system and certification
Our windsurfing lessons take one hour. You can get the maximum out of your course, because we spread the hours over a couple of days to prevent that you are not going to be too exhausted.
Courses: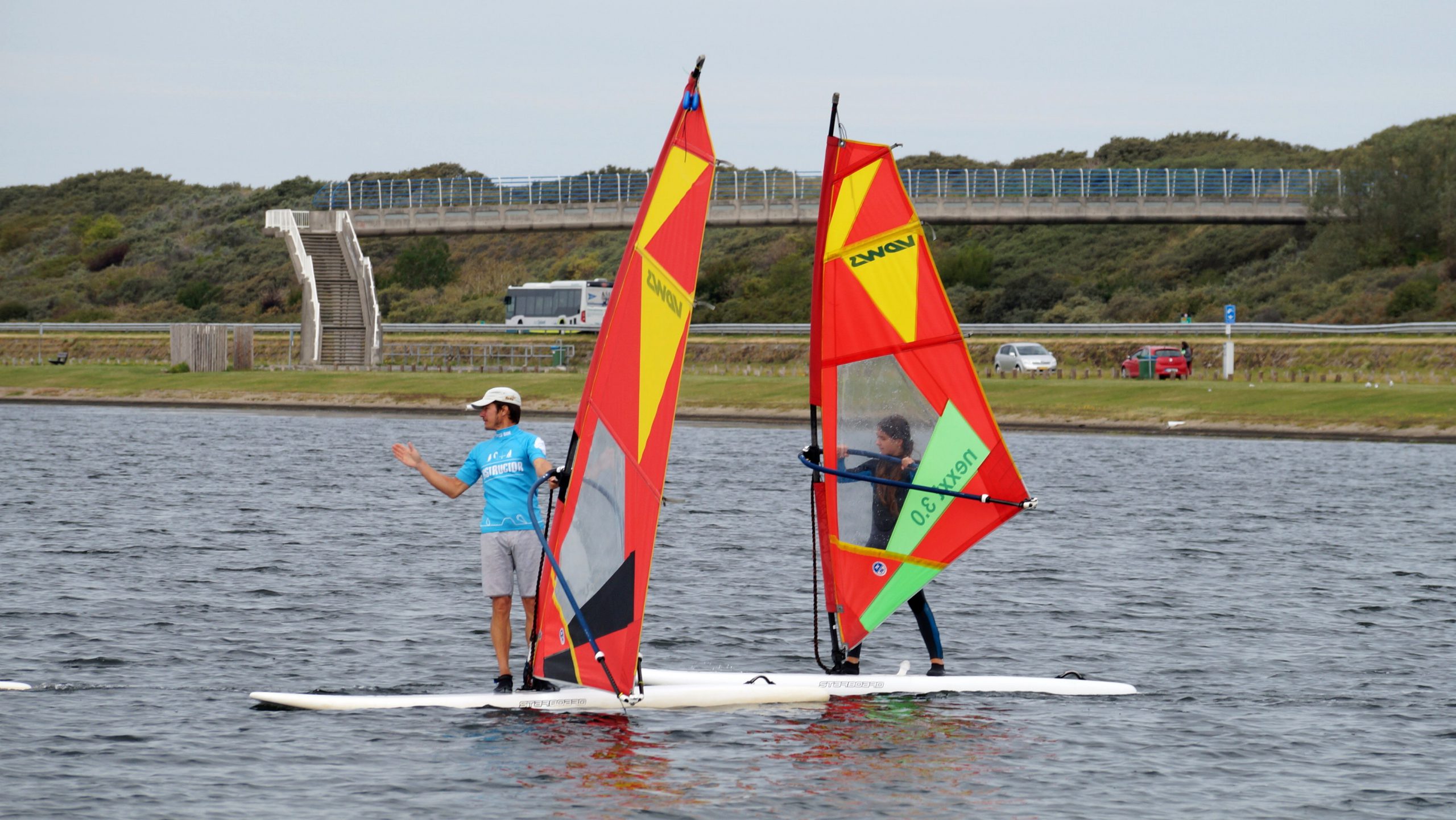 Intro Lesson
In the intro lesson we will teach you the first steps of windsurfing. You will be sailing back and forth, even if you've never been on a surfboard before! The teacher will be surfing right next to you to coach you continuously.

If you already know how to windsurf, this intro lesson is perfect as a refresher and to see which course suits you best. We will adapt the lesson to your level.

Lesson for one or two persons (incl equipment)
1 person€ 62,- pp
2 persons€ 48,- pp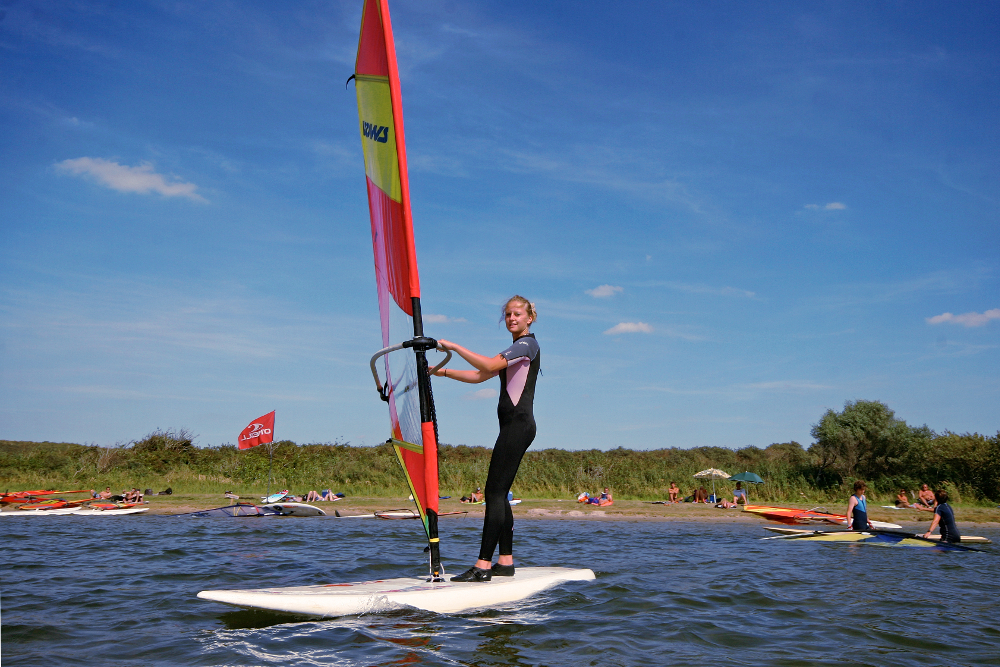 Basic Course Windsurfing
During the Basic Windsurfing Course you will learn to windsurf independently with a bigger sail. You'll be able to sail all directions and turn around quickly.
The hours are spread over different days. You will receive a course book as well. Besides the lessons you have the possibility to practice surfing on your own in 3 free training hours.

5 lessons and 3 free hours (incl equipment)
1 person€ 309,- pp
2 persons€ 241,- pp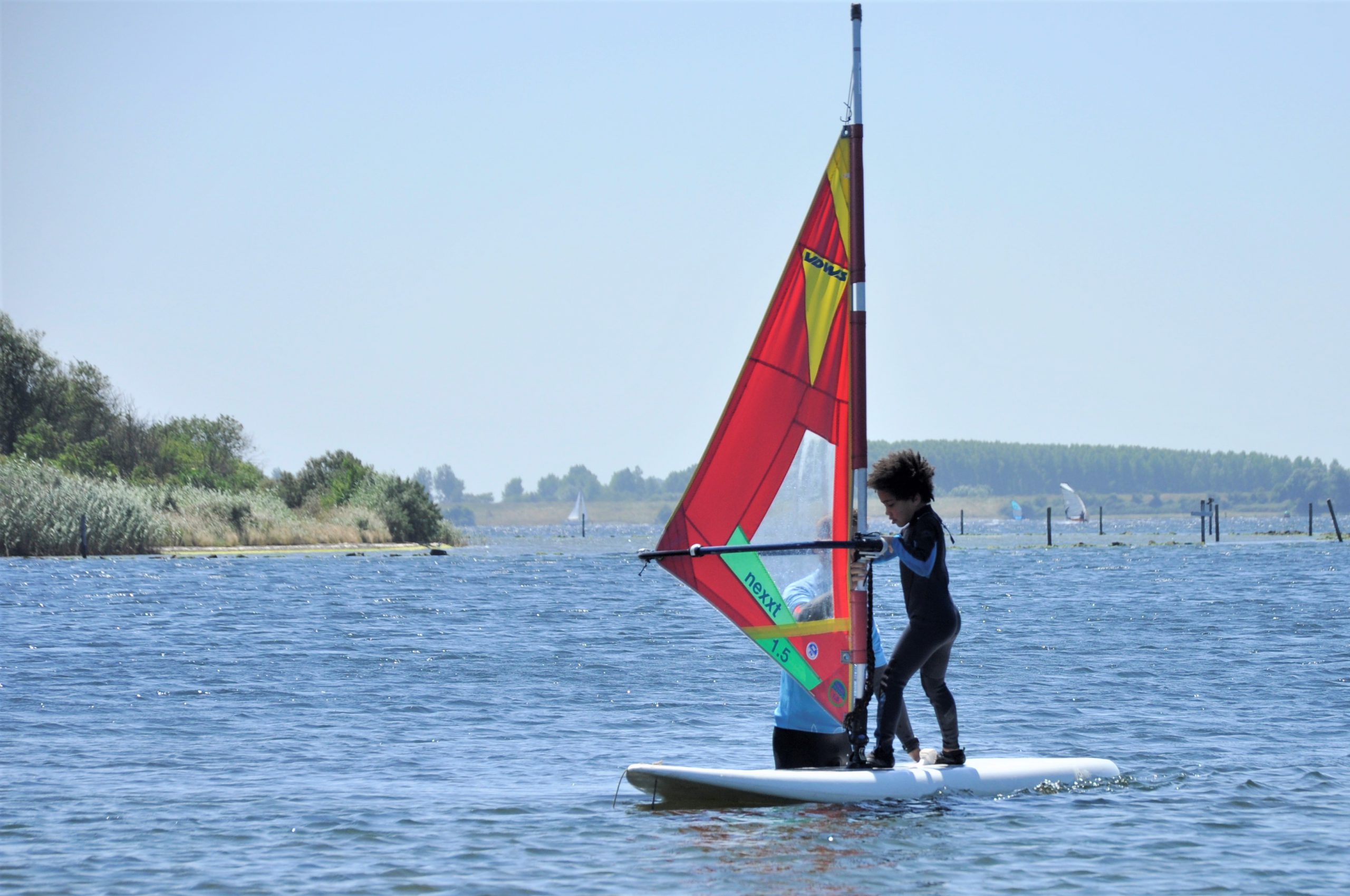 Kids Course Windsurfing
Kids between 6 and 10 years receive private windsurfing lessons with special equipment and an adjusted lesson program. In a playful way they learn how to windsurf within 3 separate hours.

3 private lessons (incl equipment)
private lessons€ 168,- pp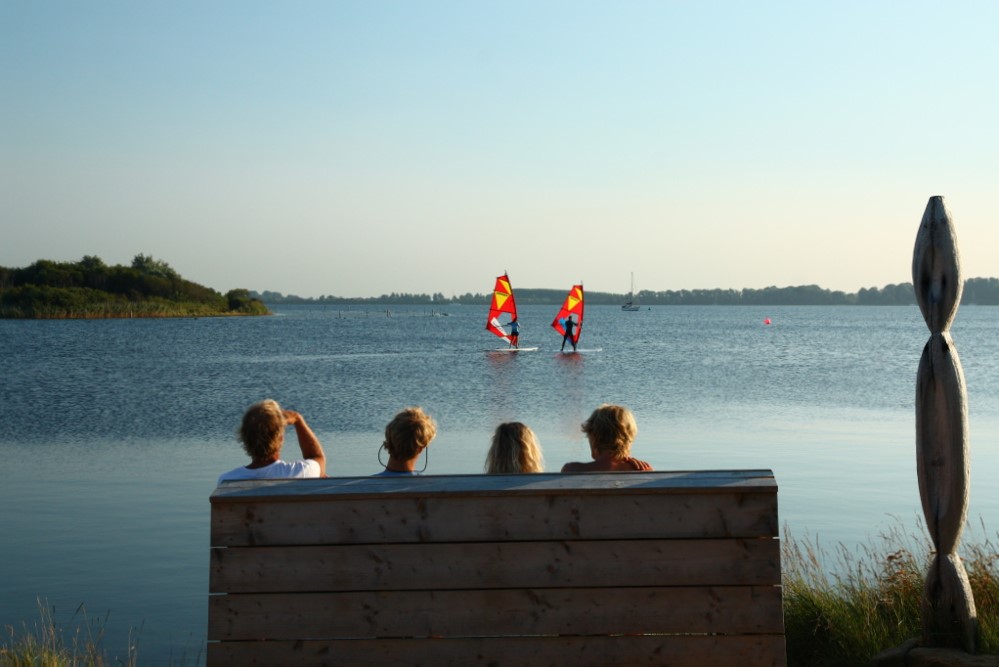 Exam
If you have participated in the Basic Windsurfing Course, you can do an exam to receive an official international windsurfing certificate (VDWS). The test consists of a theoretical and a practical part.

VDWS, Practice and Theory
€ 51,- pp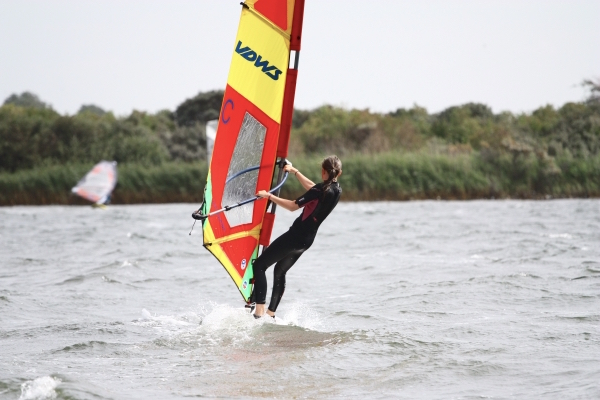 Advanced Longboard Course
You did the basic course and you practised a lot yourself. You can go upwind easily and tack quickly. Stronger winds are no problem and you know how to handle windgusts without being pulled off the board.

You're ready for a next challenge!

In the Advanced Longboard Course you will improve your windsurfing skills like learning how to use a harness, the beach start & practice longboard freestyle tricks.

3 hour course and 2 free rental hours (incl equipment)
1 person€ 202,- pp
2 persons€ 157,- pp

Single lessons (incl equipment)
1 person€ 67,- pp
2 persons€ 53,- pp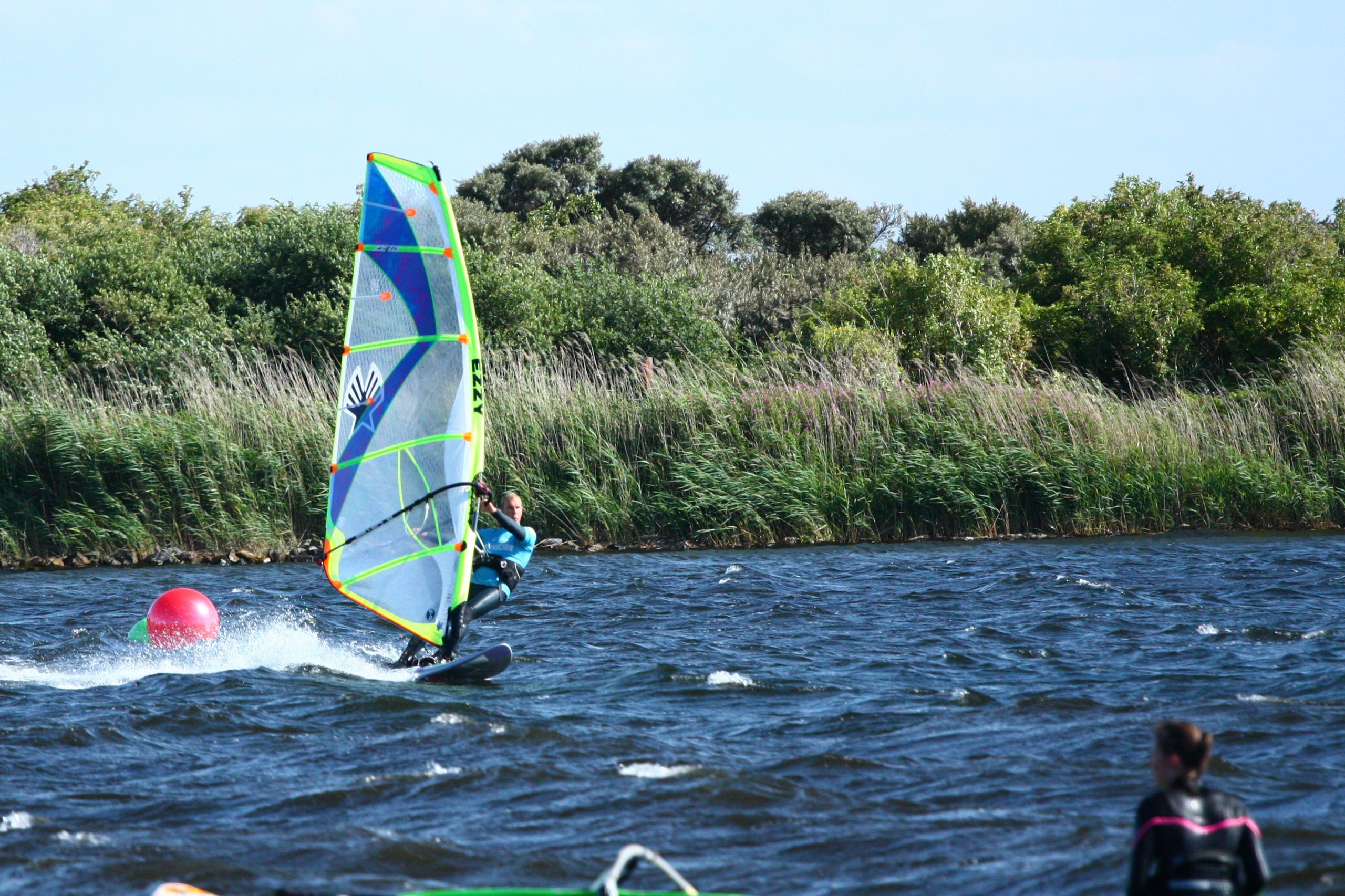 Shortboard cursus
You are going to learn how to surf on shorter boards with foot straps, the first glide, water start and trying to power jibe. We are coaching, if necessary, with radio helmets. These lessons will take place if there is more than 4 Bft.

Course 3 hours and 2 hours rental (incl Funboard)
1 person€ 224,- pp
2 persons€ 179,- pp

Single lessons (incl equipment)
1 person€ 75,- pp
2 persons€ 61,- pp

---
You can't find the info you're looking for? Then get in touch with us or have a look at the faqs.
---
Windsurf Rental
| | |
| --- | --- |
| Allroundboard incl. wetsuit | € 25,- /h |
| Allroundboard excl. wetsuit | € 20,- /h |
| Discountcard 8 hours incl. wetsuit | € 141,- |
| Discountcard 8 hours excl. wetsuit | € 96,- |
| Shortboard incl wetsuit and harness | € 34,- /h |
| Shortboard incl wetsuit and harness | € 67,- / 2 hrs |
Week Sportscard
Do you want to have an active week on the water and try out different watersports? Then the Week Sportcard is for you!
With this card you can do 2 courses, each in a different sport. Furthermore, you can rent equipment, this is included in the card.
For example, you can choose a combination of Windsurfing and Kitesurfing, Windsurfing and Catamaran or Kitesurfing and Catamaran.
Price: €505 pp (see conditions)